Calling all Dad's and Important Father Figures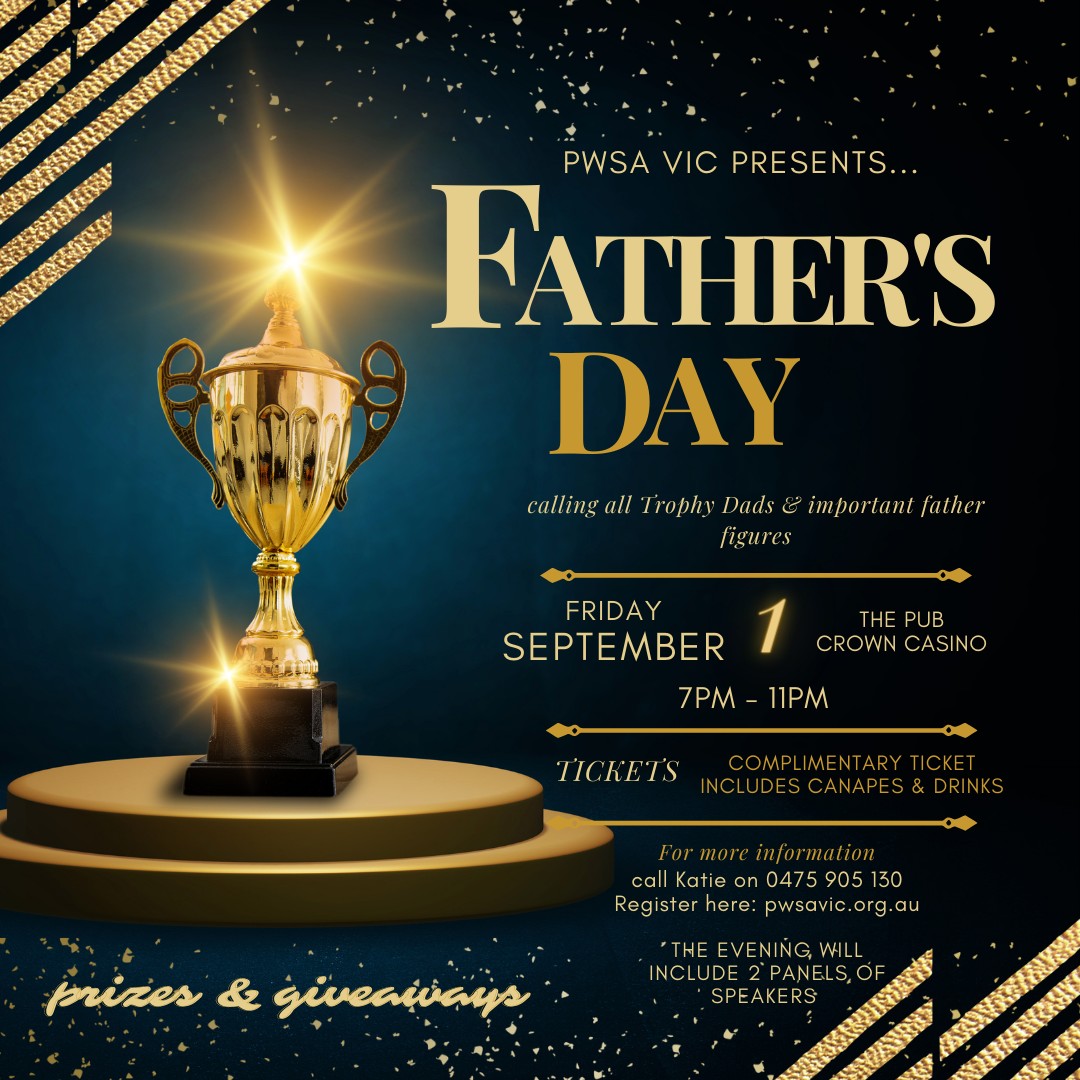 We have an exciting event that you won't want to miss. SAVE THE DATE for Friday, September 1st at The Pub at Crown, where we will be honouring and celebrating the invaluable contributions of Dads, Father Figures, and Caregivers within our PWS Community.
🏆 An Evening to Remember
This special event is dedicated to expressing gratitude and appreciation for the remarkable support that fathers and father figures provide to individuals with Prader-Willi Syndrome (PWS). It's also a wonderful opportunity for partners to come together and share in the celebration of their loved ones' achievements and contributions.
🏆 Exclusive Benefits for PWS Victoria Family Members
As a token of our appreciation, we are pleased to offer complimentary tickets to PWS Victoria Family Members of PWSA VIC and their partners. It's our way of saying thank you for being part of this incredible community.
🏆 Drinks, Canapes, and Cocktails
The Pub at Crown will be hosting us for the evening, providing a delightful selection of drinks and mouthwatering canapes. So, dress in your finest cocktail attire and join us for an evening filled with elegance and celebration.
🏆 Engaging Speakers and Panels
Our Orange Carpet Arrival starts at 7 pm, setting the stage for an unforgettable evening. At 8 pm, the first panel of speakers will take the spotlight, sharing inspiring stories and insights. Then, at 9 pm, the second panel will captivate the audience with their experiences and wisdom.
🏆 Exciting Prizes and Giveaways
Attendees can win our major prize, a $200 prepaid VISA Gift Card. And that's not all—there will be other gifts and giveaways throughout the night.
🤩 Act Fast, Tickets Are Limited!
Tickets for this exclusive event are limited, and they are sure to be in high demand. Don't miss your chance to participate in this extraordinary celebration. Grab your tickets early and ensure your spot at this unforgettable evening.
🎟️ How to Get Tickets?
Tickets can be reserved by clicking on the button below.
So, mark your calendars for the PWSA Victoria Father's Day Event on Friday, September 1st at The Pub at Crown. Let's come together to celebrate the strength and love of our PWS community's fathers and father figures while enjoying an enchanting evening filled with great company, captivating speakers, and exciting surprises!
See you there! 🎉
For all enquiries, please contact Katie: 0475 905 130