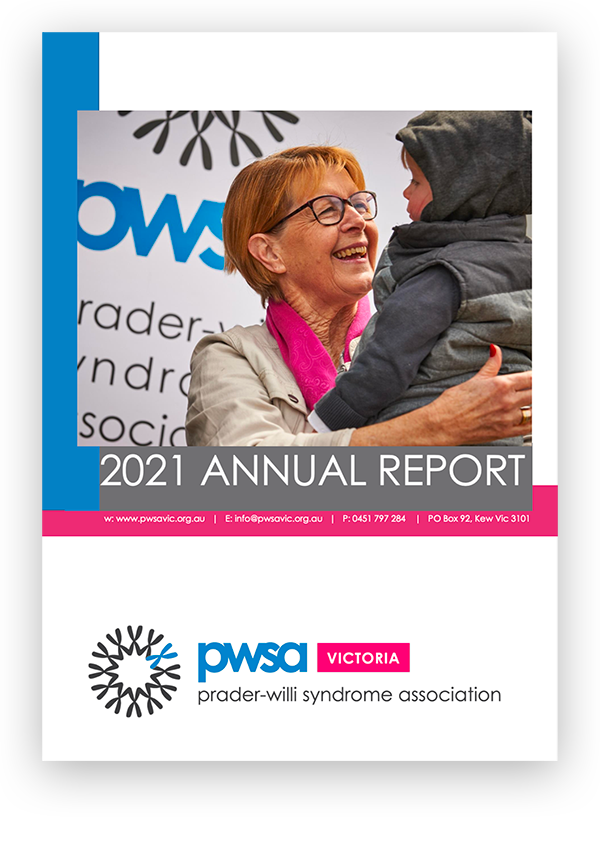 At the Prader-Willi Syndrome Association of Victoria Inc (PWSA Victoria), we aim to support those living with Prader-Willi Syndrome through support, education, advocacy and awareness.
We ensure families and professionals have the right tools to help those that they care for have every opportunity to live a full and inclusive life. We do this because life for many families that we first meet is overwhelming, challenging, confusing and wrought with grief.
This past year, our board and volunteers have worked tirelessly to give people with Prader-Willi Syndrome the support that they need.
2021 Annual Report
2021 Financial Report
Report Summary
---
Family Support
We helped 31% of Families estimated to be living with Prader-Willi Syndrome in Victoria in 2020/2021
In-service training
Provided in-service training to 16 organisations to help them better understand Prader-Willi Syndrome and how best to care for people with Prader-Willi Syndrome.
Support and Information
We supported 86 people seeking support and information through our Support Line.
Creating awareness
We reached 36,000 people via our social media to create awareness and advocate for change for people living with Prader-Willi.
Financial Summary
---
$15,045
General Donations
$446
General Merchandise Sales
$43,337
15for15 Donations
$898
15for15 Merchandise Sales